Summer Music 6 pm - 9 pm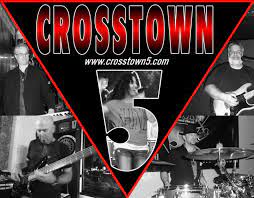 We're so excited to welcome back one of our much loved bands--Crosstown 5 on Saturday, May 28, 6-9 p.m. This five-piece band will have you rockin' 'n rollin'. They feature rock, classic rock, Motown, country, and even some funk for your enjoyment. Get ready to hit the dance floor!
Reservations are required, and space is limited. Make your reservation by calling: (209) 334-0274, or email: mia@nostravitawinery.com. Tables seat up to 6 people.
• Wine Club members: up to 2 tickets at $5 each. • General public: $15 per ticket.
Tickets must be paid for in advance, and are nonrefundable.
Please feel free to bring your own food for dinner as there will NOT be a food truck on site. **No outside alcohol is allowed on site.
• Children 10+ are invited, but must remain seated with an adult. •NO pets on site. • There will be no wine tasting during this event. Bottle sales, and Wine Slushie sales only.